Planet Log 3000's Awards
---
Check out our awards: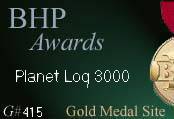 Gold Medal Site Award, the BHP Awards Top Honor, 11/09/1997.
Comments from presenter Mark Bailey: Excellent Work! Keep it up!


Site of the Day Award, Artists Category, MusicSearch.com, 11/10/1997.


First Annual Montgomery Burns Award For Outstanding Achievement in the Field of Excellence, 11/11/1997.
Comments from presenter Steve South: This is some page.... you definitely win! Great graphics, layout, etc. etc....


"Best of the Web" award with ALT-MUSIC® Inc. (in association with Scratchie Records), "the ULTIMATE guide to music on the net," 11/13/1997.
Comments from presenter ALT-MUSIC® Inc. : Only 1 in 100 nominations score high enough to receive this award, placing your site in estimated top 5% of all sites currently on the Web. This year we have reviewed over 50,000 sites.
Comments from reviewer Matt Bland: i'd like to check out your music, i'm into the kind of music that your band plays... i loved the site, very amusing!! .....i thought your site was pretty amazing, and to say it's your first attempt, then, WOW!! (gives them all a round of applause)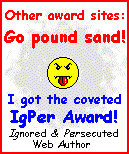 The coveted "IgPer (Ignored and Persecuted) Award", 11/14/1997.
Comments from presenter Cableman: You are the first applicant to whom I wanted to write a personal note. I congratulate you on the fine work on your web site. Additionally, your "sob story" was absolutely the best! After reviewing the high quality of your site, I actually felt your pain.


The "Bunny Award" presented by Michael Betz, 11/15/1997.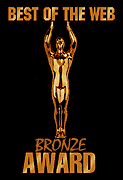 Bronze Award from Nielsen Web Sites & Business Graphics, 11/16/1997.
Comments from reviewer Eric Nielsen: Your site is very well put together. I enjoyed surfing it. I am sure everybody else will too.
(Not really much of an honor since it's not silver or gold -- according to their web site, everyone gets an award (presumably bronze). Thought we'd put it here anyway, though, since someone else may want to use this link to submit another site for consideration.)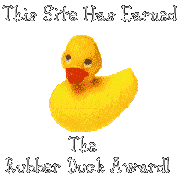 Rubber Duck Award, 11/17/1997.



Cool Band Award from the GoGirls Music Network, 12/3/1997...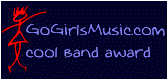 ...and, again, unsolicited, on 4/10/2000, with the quote from Madalyn, "...your site rocks!"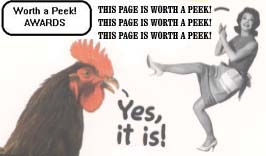 3 Banana Award from BaNaNa BaNaNa, 2/7/1998.
Comments from reviewer: Congrats You Have just Won the Worth a Peek Award! Display the Award with pride because your page was REALLY WORTH A PEEK!
(Gotta say, this is the coolest looking award yet!)
---
Copyright 1997-2000 Planet Log 3000
Page visited
times.